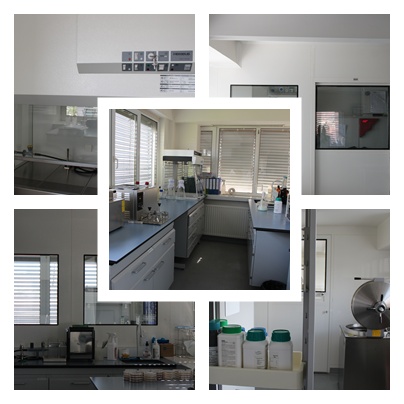 Head : MSc Nataša Cerovečki

e-mail: This email address is being protected from spambots. You need JavaScript enabled to view it.
In microbiological food tests we determine the existing pathogens, potentially pathogenic microorganisms and/or their toxins that may expose to risk human health.
Microbiological food tests
Control of the microbiological hygiene of food production and storage facilities
Supervision of critical control points (HACCP)
Product durability tests
Testing the existence of bacterial toxins in food
Microbiological tests on o

bject of common use

(cosmetic products, packaging)
Most frequent infective bacterial agents transmitted trough food causing illnesses are:
Salmonella spp.
Listeria monocytogenes
Escherichia coli
Staphylococcus aureus
Campylobacter spp.
Cronobacter sakazakii
Bacillus cereus
Shigella spp.
Vibrio spp.
Microorganisms may cause food spoilage:
aerobne mezofilne bakterije
kvasci i plijesni
aerobne sporogene bakterije
Alicyclobacillus spp.
Leuconostoc spp.
Lactobacillus spp.